Possible usage of TechniStone®
Product advantages

Design - possibilities are limitless

Durability - exceptional hardness, strength and durability

Resistant - to high temperatures, chemicals, abrasion, scratches and cuts

Less heavy then natural stone, but more flexible

Easy polishing, cutting and manufacturing – similar to nature granite

Highly stain resistant - practical for daily use (red wine, coke, oil, coffee..)

Surface uniformity – easy to create seams due to its consistent structure

Low waste - during fabrication when compared to natural stone (no veins and cracks)

Minimal bacteria growth - thanks to extremely low porosity, engineered stone satisfies all hygienic requirements and is very easy to maintain over the entire surface
Surface types & sizes
For more information about our special surfaces, special thicknesses or other dimensions please contact Technistone representative.
Each slab dimensions are 306 x 144 cm / 120,47 x 56,69 in with net
surface 4,35 sqm / 46,75 sqft (i.e. 305 x 142,5 cm / 120,08 x 56,10 in).
Each jumbo slab dimensions are 320 x 156 cm / 125,98 x 61,41 in with
net surface 4,94 sqm / 53,17 sqft (i.e. 318,5 x 155 cm / 125,39 x 61,02 in).
Standard thicknesses are 12 mm, 20 mm and 30 mm / 0,47 in, 0,79 in
and 1,18 in.
Standard tile dimensions are 30 x 30 cm / 11,81 x 11,81 in, 30 x 60 cm /
11,81 x 23,62 in and 60 x 60 cm / 23,62 x 23,62 in.
Standard thicknesses are: 10 mm / 0,39 in and 12 mm / 0,47 in.
Product Usage
​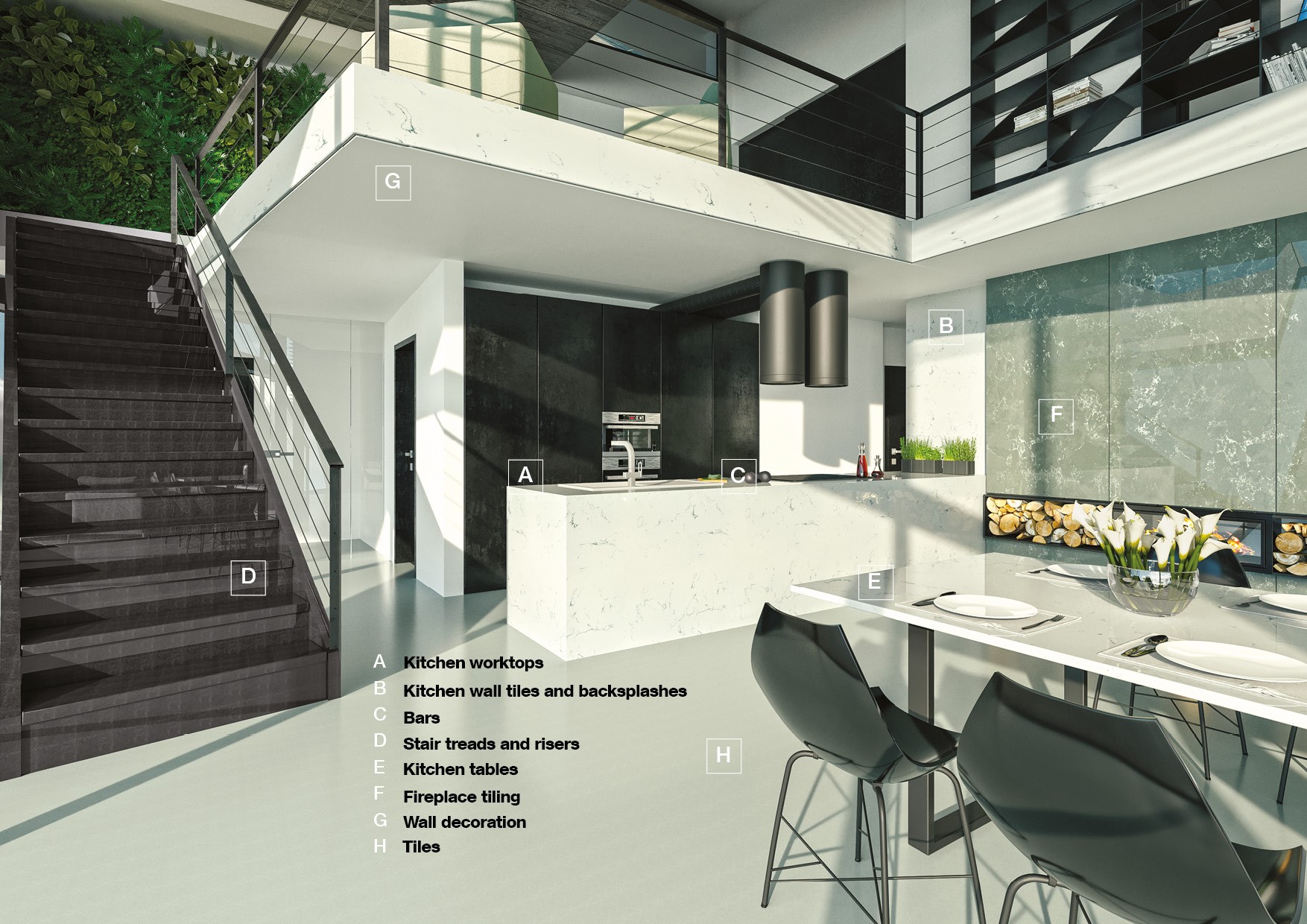 Kitchen countertops
Bars-tops
Wall tiles
Vanity units
Floor tiles
Window sills
Stairs treads and risers
Tables
Fireplace tiling
Decorations
Facedes (TS Exterior)
Flowerpots
Interior usage

TechniStone® kitchens
TechniStone® kitchen countertops are highly resistant to scratches, knife contact, usual cooking temperatures of acids normally connected with domestic use (e.g. lemon juice or vinegar). Normal cutting or tenderizing with a wooden mallet directly on the kitchen
countertop are simply not a problem.
TechniStone® bathroom
Bathroom solutions utilizing TechniStone® material are known for their reliability. Enjoy storage shelves, wall and floor tiles almost completely resistant against scratches, impacts or the discoloration that accompanies the use of cleaning or disinfecting agents.
TechniStone® fireplace cladding
Fireplace cladding completes the interior and gives your home the final touch. TechniStone® surface cladding perfectly fits with both modern and traditional interiors and allows even for ordinary fireplace to be unique. It is characterized by excellent fire resistance.


TechniStone® stairways
Accent the design of your interior with appropriate selected stairways! Technistone manufactures slabs in dimensions up to 3 meters long, which allows production of large format stairs and stair cladding. It proves to be significantly easier to manipulate with one single piece instead ofmany smaller pieces.

TechniStone® tiles
Tiles made of TechniStone® material are intended for indoor use only. The production process and the raw material used, determine the very low water absorption characteristics of the product. That is why the requirements for the sub-base and bonding materials are different than those for natural stone or ceramics. Compatible with most floor heating systems.
´