Marmomac 2021 - News from the world of stone under one roof
After a pandemic break, Verona, Italy, once again hosted Marmomac, the world's leading exhibition focused on marble and stone processing technologies and their use in construction and interior design. Meeting our clients face to face was incredibly energizing, as was the opportunity to gain new inspiration.
Many manufacturers came up with innovative eco-friendly proposals. The well-known Italian company Stone Italiana introduced a new Cosmolite Range with an extremely high amount of recycled content, and many companies boasted new uses for offcuts. After two years of development, colleagues from Pokarna in India have introduced an interesting range of wash basins made of engineered stone. Natural stones with original designs were presented by the Italian company Antolini and the Brazilian miners Pettrus Mineracao.
In nearby Bologna, the installation of a multifunctional kitchen island, created by the Italian kitchen studio Aran World in collaboration with architect Steffan Boeri, attracted a lot of attention from trade fair visitors. Boeri's most famous project is the Vertical Forest: two residential towers in the center of Milan with facades dotted with 900 trees such as beeches, ash trees, ivy, ferns and evergreen shrubs. In the aforementioned kitchen island, the designers have squeezed in all the kitchen equipment from the oven to the waste bin. A lemon tree grows out of the center of the island and becomes its dominant feature.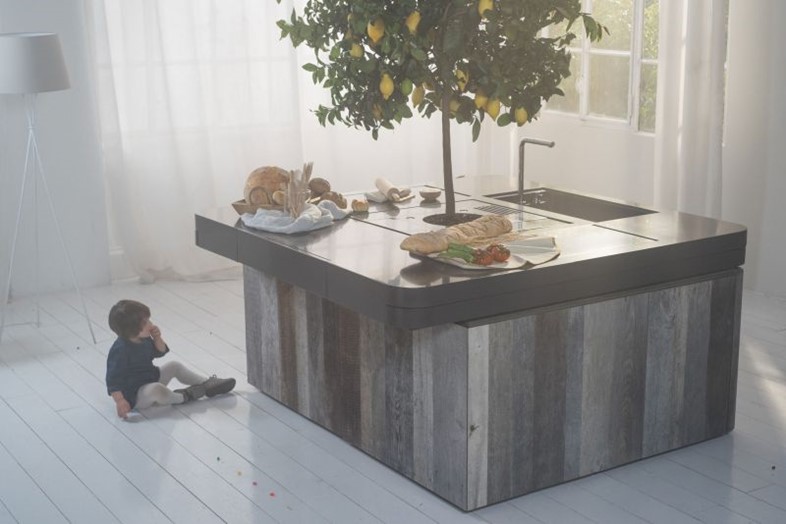 Source: www.homecrux.com