Engaging idea Creator/ Writer/ Editor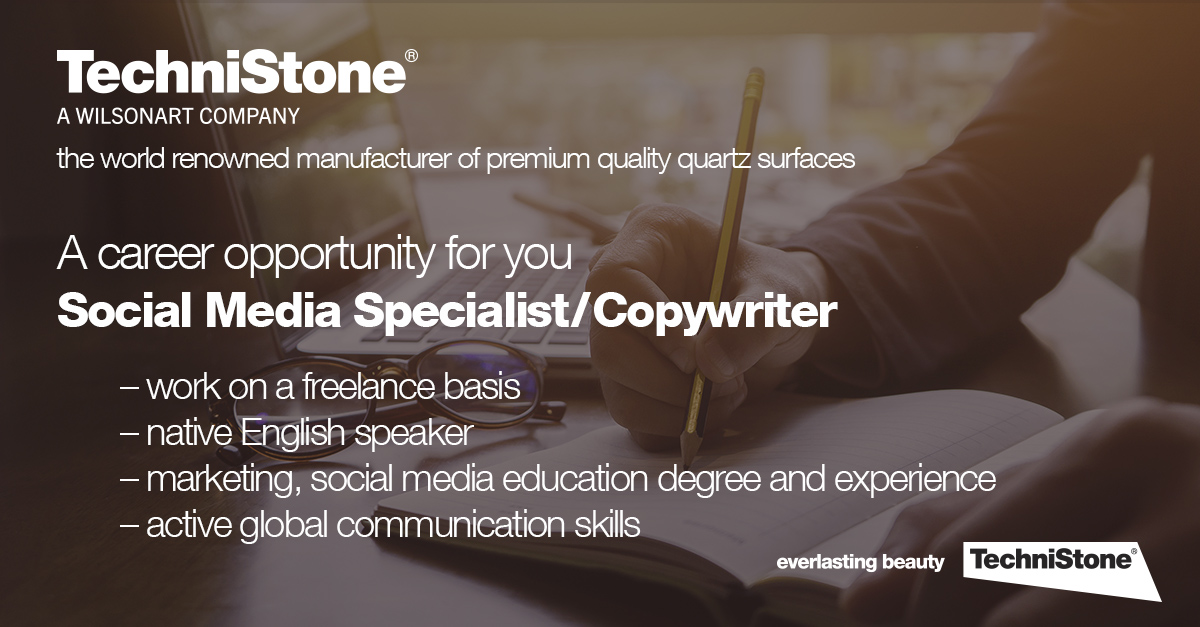 Engaging idea Creator/ Writer/ Editor
Technistone, based in Hradec Králové, the leading European manufacturer of premium quality quartz with a global distribution network and a long tradition, is currently looking for an Active Freelancer to create exceptional content for everyday Technistone online communication channels, working locally, but also in global/worldwide outreach. Join a team of skilled and experienced people, in this solid business!
The ideal candidate should have long-term experience in writing/editing/creating varied texts and copy, a love of social communication, be ambitious, exceptionally and convincingly expressive, eager to communicate and liaise with our customers worldwide. In addition, he must be willing to learn internal processes and have a desire for successful long-term business relationships.

The position requires creativity, enthusiasm and a bias towards being goal oriented in order to be a part of a team that puts forward attractive and strong social profiles, successfully runs campaigns and builds communities for effective mutual cooperation.
As a writer, the primary goal is to produce clear, concise, high performing and engaging posts, messages for use across various platforms that will entice our potential customers, admirers, business partners. It is expected that the candidate should be able to share, promptly respond to and react to issues as they arise.
CORE RESPONSIBILITIES:
i PROVIDE CREATIVE, ENTICING AND ENGAGING HIGH- PERFORMANCE TEXTS TO MAKE THE COMPANY´S SOCIAL MEDIA PROFILES LIVELY AND COMPELLING,
ii To initiate and support campaign initiatives across all channels and media.
iii Conduct local customers´ interviews and to better understand the target audience and its everyday life, special events, successes and ideas,
iv To explore trends and topics for media content creation.
v Collaborate with the Marketing, Product and Sales Team to understand the product qualities and advantages,
vi To sort out the needs and best practices for social communication across many markets in the world, by aiming at various target segments.
vii Regularly monitor and report on performance and productivity metrics.
viii Provide updates to the Marketing Manager on the status of tasks and projects in progress.
PLEASE PROVIDE A COVER LETTER DESCRIBING WHY YOU ARE THE IDEAL PERSON FOR THIS POSITION.
REQUIREMENTS:
i NATIVE ENGLISH SPEAKER
ii Degree in literature, journalism, advertising, marketing, PR or related majors is a must
iii 1-2 years of editing/writing experience
iv Proven track record of delivering strong, high- performance copy,
v Advertising/social copywriting and social media managing experience is required
vi Pro-active and self-driven personality, eagerness to work with networks overlapping with interest as a hobby
vii Time flexibility, ability to work to a deadline without compromising on quality
viii Ability to write and think creatively
ix Excellent organizational skills
x Ability to communicate and open the conversation leading to building a strong business relationship
xi Attention for details
xii Humorous but formal approach in delivering messages.
xiii Highly responsible, reliable, collaborative and self-motivated
xiv Strong focus on results and response time
xv Passion for aesthetics and trends
xvi Ability to work well both in a team and independently
xvii Ability to easily work with graphic/photo editors, and ready-made applications (ie. Canva, Ripl)
BENEFITS:
i Occasional travel to learn about regional customs, culture and meet Technistone partners
based on a personal schedule
ii Very attractive and perspective remuneration system
iii Free and flexible content creation, to influence not only the global quartz community
but also as a personal challenge.
iv Provision of a standard official notebook.
v Provision of a standard mobile phone

Contact:
Dana Horáková, Marketing Manager
horakova@technistone.com